International Cat Day The best known is August 8, however, this is just Canada's cat holiday. So what about other countries? Let's find out in this article by Mazeshirt.
What is International Cat Day in each country?
International Cat Day was first established on 8/8/2002 in Canada by the International Fund for Animal Welfare (IFAW) to help the public recognize the number of cat animals that need rescue every year and is also a day for cat owners to show their love for their cats.
International cat day in some countries will be different, namely:
October 29: America's International Cat Day
August 8: Canada's International Cat Day
March 1: Russia's International Cat Day
February 22: Japan's International Cat Day
February 17: European International Cat Day
August 8, 2023, is gradually being recognized to become the official international cat day for the whole world.
Meaning of International Cat Day
A holiday for the "kings" was created to raise awareness of the number of cats that need to be rescued every year. In addition, International Cat Day will be a great opportunity for the "lotus" to show their love to their friends.
World Cat Day in many different countries will also be on different days.
In Japan and some Asian countries, the International of the Cat will be on February 22. The holiday has been celebrated by the public in Japan since 1987, at the request of one of the major cat food companies. In the same year, a Committee for Cat's Day was established to call and propagate the meaning of the holiday to those who are keeping cats for companionship and also those who want to learn about this day.
In the United States, International Cat Day will be on October 29. In Russia, the anniversary will be March 1. In some other European countries, World Cats Day will be February 17.
16 things to do to celebrate international cat day
If you still don't know what to do to celebrate international cat day then check out one of the 16 things Mazeshirt suggests
Giving them gifts that cats love will make them very happy. For example, a new toy or a delicious pate box, etc.
Take the cat to the spa to retouch and take care of, relax
Brush your pets and take them for a walk
Upload cute and funny memories of your cat
If you don't have a cat yet, you can celebrate the holiday by adopting a homeless cat. This will be the most meaningful and warm act for this furry friend.
Alternatively, you can also donate to animal rescue organizations in your area or around the world.
Adopting a feral cat from someone else or a tiger cage
Take your cat to a general health check-up at a veterinary hospital
Buy them delicious food, buy them a new litter, or make your own cat pate
Visit feral cat adoption sites and play with them
Blogging, status showing cat love and anti-cat violence on social networks
Make fish cakes or cat cakes for your kids or neighbors
Help your neighbors clean out the litter box, cat litter, and more. if they have
Help your cat relax by brushing or massaging
Buy beautiful cosplay clothes for your cats
Throw a party and invite your friends and their cats to join
5 Gifts for every cat lover in your life
Everyone has at least one dedicated cat lover in their life. Whether snapping adorable Instagram photos or diving into the DIY world to make their kittens more comfortable, cats are truly a member of the family. And with a large online community of cat enthusiasts, there is a long list of crafty gifts for cat lovers.
1. Fun playing cards
Board games are a great way to spend time and bond with family and friends during the holidays. Any cat lover will appreciate a custom-made deck of playing cards featuring their majestic cat – a fun way to show off their loving companion!
2. Cat-themed trackpad
A loving pet owner will most likely share one photo after another of their cats on social media. Take the opportunity to get the best photo of your cat and create a trackpad customization that's sure to delight – one of the most unique gifts for cat lovers!
3. Unique photo mugs
There's nothing like a cup of hot cocoa to be filled with love and warmth during the holidays. An even more heartwarming cat lover would be if the mug came with a photo mug with their very own cat adorably placed on it. This mug is sure to become a wardrobe favorite.
4. Custom phone cases
Any good cat lover will think about their pets all day long and wonder what they can do. The best gifts for cat lovers are those that provide the opportunity to carry their furry friend around every day no matter where or when. These custom phone cases will just do the trick!
5. Cloth
Cat International Yoga Day T-Shirt
Wearing a special shirt to do yoga with your cat is also a great idea.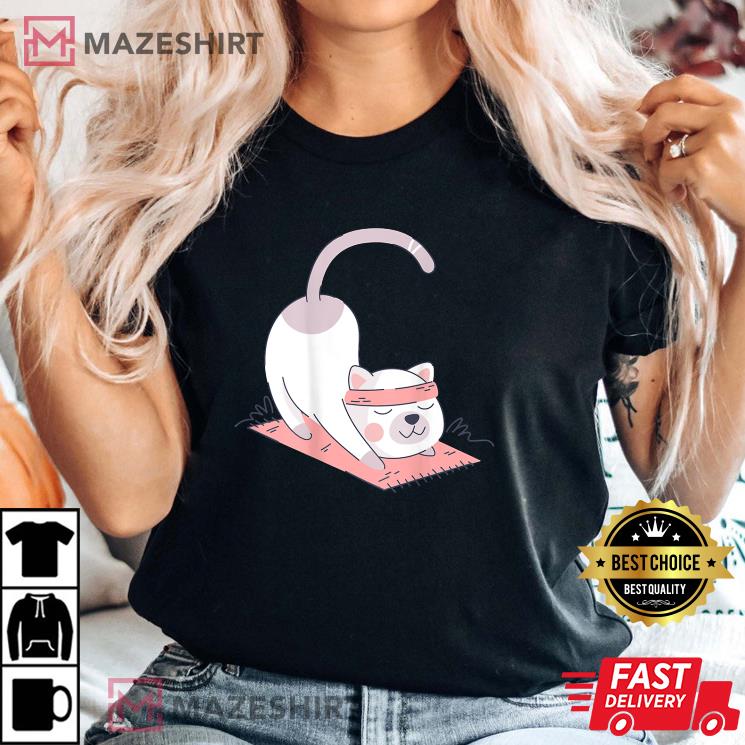 Best Cat Dad Ever Funny Cat Daddy Father Day 2022 T-shirt
Choosing this product for the best cat dad ever on happy national cat day.
Cation Cat Lover Gift Science Kitten Chemistry Funny T-Shirt
Happy international cat day with an interesting T-shirt.
Conclusion
Hopefully, the article has helped you understand more about International Cat Day and what they mean to your pet cat. Please continue to follow the latest and hottest news on Mazeshirt every day!