Handmade Christmas gifts are gifts made by hand and with the heart of the giver. These handmade Christmas gifts not only have material meaning but also represent the care, love, and respect of the giver for the recipient.
Top 7 ways to make easy handmade Christmas gifts
Make a snow globe using a glass jar – the best homemade gifts
To avoid having to spend money on snow globes bought at souvenir shops, you can use glass jars and decorate your snow globe yourself. The simple way to do this is as follows:
Prepare ingredients including:
1 small glass jar
Styrofoam
Pine tree, small toy deer
Ribbon
Glue
How to make a cute snow globe as follows:
First, you will cut a small round piece of foam and stick it to the lid of the jar scrape more foam, and sprinkle it inside to look like snow. Attach decorative items such as a snowman, a pine tree, or a reindeer to the foam piece and a small piece of cardboard with messages and wishes, and then put all of this inside the jar. Close the jar lid and you've got an extremely adorable handmade snow globe.
Simple fabric Santa elves
Santa Claus symbolizes the protector of children, a gentle and kind person who always brings joy to everyone. That's why people often decorate Santa Claus symbols on the streets every Christmas. You can also make your fabric Santa Clauses to give to your friends at Christmas.
If you need more confidence in your ingenuity, you can also immediately refer to the Santa Claus elf made from mainly fabric and decorative motifs.
Christmas motif felt doll set
Felt fabric is one of the popular fabrics used to make handmade Christmas gifts because it is a highly durable material. The Christmas motif felt doll set is relatively simple to make. Just prepare colorful felt fabric along with a little cotton and you can make many meaningful handmade Christmas gifts for this holiday…
The product set includes images of Santa Claus, reindeer, stockings, and snowmen… all with built-in strings used to hang decorations on the tree or anywhere in your room. Or you can use it as one of the greatest diy Christmas gifts for the people you love on the upcoming Christmas day.
Make handmade decorative lights
You can make lovely decorative lamps like this yourself with very easy-to-find ingredients
Prepare materials:
2 glass jars
Paper Christmas scene
Marker pen, scissors, sharp toothpick
Milk glue, glitter
Black and white acrylic paint
Decorative lights
You can buy materials from stationery stores and start drawing pictures on paper and coloring. Apply milk glue and then stick it to the side of the jar. Sprinkle in glitter for added sparkle.
Install the decorative light wire inside, letting the wire wrap many times around the jar to get the desired brightness. When the paper glue begins to dry, continue painting with the acrylic color of your choice and then dot white dots on the side of the jar to create a snow effect.
Handmade Christmas hats for the whole family
Christmas is coming but you still don't have any good handmade Christmas gifts to give to your friends and relatives? Then you can refer to the idea of ​​​​making handmade products to give to family members, such as a Christmas hat that will be a gift that will surprise everyone.

Hats which are handmade Christmas gifts are made from highly durable, soft, and elastic fabric that makes you feel comfortable when wearing them. The hat is red and white to match the Christmas atmosphere and also comes with lovely decorative motifs. You can choose different motifs for the hat such as pine trees, reindeer, snowmen, or Santa Claus.
Felt Christmas tree
Diy Christmas gift ideas with the felt Christmas tree is a mini pine tree model used as a decoration for your room, desk, or anywhere in your house. The pine tree is made from colorful felt fabric cut into squares and then glued together into a complete, eye-catching product that attracts everyone.
The product includes a small piece of wood at the bottom to balance the tree and make it more convenient for you to decorate. The top of the pine tree is attached with a prominent red star shape and colorful beads on each canopy, making the pine tree more sparkling and magical.
Candle Christmas tree mold set
The candle Christmas tree mold set is quite simple to make for you to try. The first thing you need to do is just take a large number of candles, choose the color, and melt them, then pour them into a printable mold shaped like a pine tree, then wait 5-10 minutes for the mixture. When it dries, you have a very beautiful candle Christmas tree.
With these candle molds, you can place them in the room, and decorate the dining table or party table, which are all unique and make your home space filled with the colors of Christmas. Usually, you can make products from two types of candles: white and red depending on your preference.
Gift suggestion for busy person
Daddy To Be Christmas Dad Christmas Gift Ornament
Best Christmas ornament with a meaningful quote for Dad.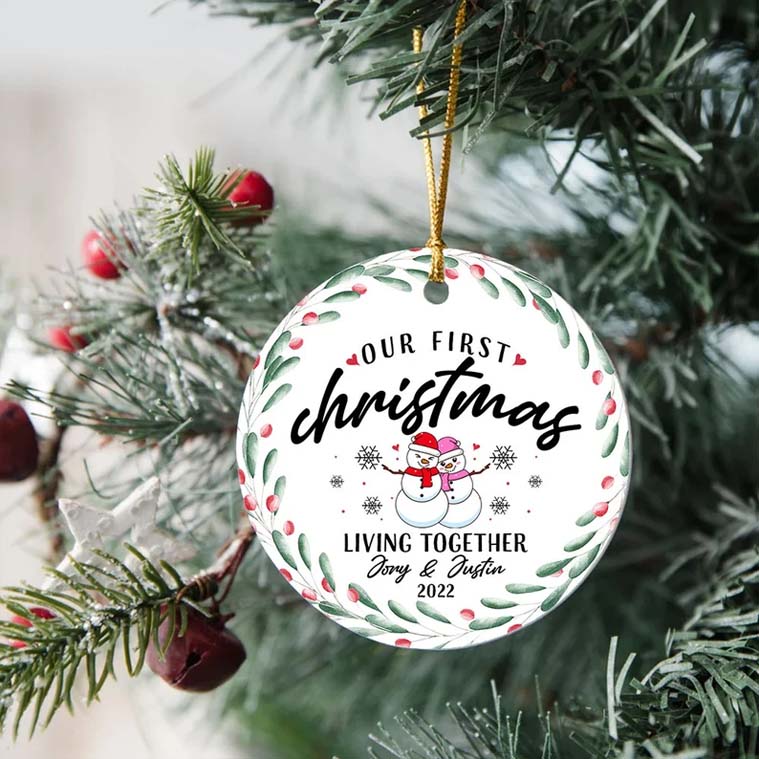 First Christmas Living Together, Couple Gift Ornament
A couple of gift ornaments for the first Christmas.
Conclusion
With the above ideas and notes, you can make meaningful and unique handmade Christmas gifts for your relatives, friends, and lovers.